Finding support
In the first weeks after someone dies there may be lots of people who offer you support, company and food. After a while those people tend to be around less. They may think that you are getting back to your "normal life" as well.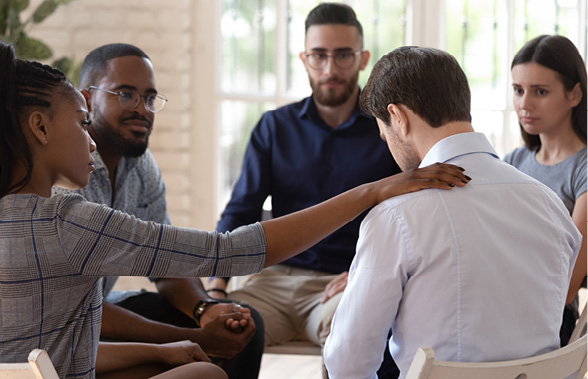 Over time, some people will stop talking about your child. This change is usually well-intended. Some people say they are afraid to "remind" parents or to "bring it up". They don't realize that your child and your feelings of grief are always present even when they are in the background.
You might have to take the lead and let people know that talking about your child is important and good. It can be a very helpful and healing experience to hear others talk about your child and say their name. It's okay to tell people how they can help.
Connect with supportive people
In the early days after someone dies, people want to help. You may want to ask someone to be the main contact to tell others what you need. You might want to make a list of things you need or things to want done to share with those who want to help. Try to be specific. For example, if you need meals, list any food allergies or preferences. If you need help with household chores, list specific jobs like: walk the dog, take out garbage, pick up children from school. Let others know what would help you:
Tell them what you need now AND
Ask, "Can you check in again in a couple of months?" OR
Ask them to contact you again around birthdays, holidays or other difficult times.
Grief is a natural reaction to death and loss. But if you feel "stuck" in your feelings, have nightmares, anxiety, or find that your grief is making it hard to get through your day-to-day activities, you may need more help. There are different kinds of support available that work for different people. If you are not sure what's best for you, speak to your child's health care team or another professional about these options:
Support groups: People meet with others who have something in common to share feelings and stories. Groups may be led by a professional or by a trained peer mentor.
Matching programs: Some agencies connect people who are grieving with one another. People may be very closely matched, for example, have children of the same age and same illness. Or, they may have very different experiences, but be able to relate to each other.  
Counsellors or therapists: Some people want to talk privately with a professional whose feelings don't need to be protected, who can share strategies that have helped other parents, and who can offer support.
Family or close friends: Some people feel most comfortable talking with someone they already know, and who knows about their family's experiences.
Online forums and groups: These are places where you can connect with others at your pace, in your own time, and from your own home or office. Some are led by a trained moderator, while others are not.  
The kind of support that is right for you may not be the right kind for others in your family. The kind of support you need will likely change over time. Remember that you can try something once or twice and if you don't feel comfortable, try something, or someone, else. 
Resources 
Videos
I feel like I'm living again
Pediatric palliative care supported my grief
I was blessed with different kinds of support after Jay died
I'm not ready for outside support yet