CaringTogether.life is a free platform designed to educate, support, and empower parents caring for a seriously ill child and those who are experiencing pregnancy or infant loss.
Developed by families and pediatric healthcare providers, we understand . . . and we are here for you every step of the way as you care for your child, yourself, and your family.
Art by Emily Yeskoo
Welcome!
This 2 minute video provides an overview of what you'll find on CaringTogether.life. We hope this webspace will help you, your family and your healthcare team to care together.
Caring Together Blog
Welcome to our family
This is a place where you can find information you can trust, and understanding, as you care for your seriously ill child. Families who are caring for a seriously ill child have developed CaringTogether.life to help others walking a similar path. Caring for your child may at times feel overwhelming and lonely. We want you to know that you aren't alone. We are here for you ... Read more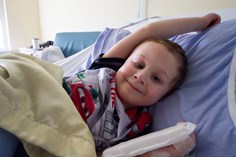 Xavier's Story
It's been over a decade now since I first heard the word 'palliative' in relation to my son Xavier's care. Things were a lot different back then. In fact, there was very little Canadian information help explain exactly what palliative care meant for my then eight-month-old baby and our family ... Read more
Developed By: